Amenities
About Us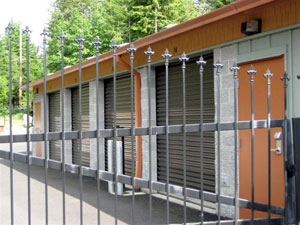 The owners, Bob, Margaret and David Thurman, have lived in the Brightwood area of Mt. Hood since 1977. Bob spent a lot of time as a boy at his grandmother's log house on the Sandy River below Brightwood and later at his mother's log house in Wemme.

We offer secure Mini Storage beginning with 5x5 thru Maxi Storage of 20x20 and feature many climate controlled units from 5x5 to 10x11.

Services available at Fort Deposit include everything for the automobile, truck and recreational vehicle, including: repairs, tires, oil changes, lubrication, parts, tires chains -- you name it. Call Chris of Page's Mt. Hood Tire and Auto at (503) 622-3330.

Shipping, receiving, packing materials and packaging services are available thru our partnership with The Wy'East Shipping Center. Wy'East is an authorized service provider for UPS and FedEx. Call Sandra at (503) 622-1623.
NEEDED: We are currently recruiting a U-Haul Truck Rental contractor for Fort Deposit and people to operate a moving service for local residents. Can you refer us to potentially interested parties that want to provide these services on Mt. Hood?
Fort Deposit is the only self storage service with fast and easy direct Highway 26 access in Welches east of Thriftway between the cities of Sandy and Madras, Oregon. The Storage units are fenced with a one way traffic pattern and the 2 gate keypad system is unique and state of the art. Secure storage is further ensured via on site eyes and ears of Page's Mt. Hood Tire and Auto.
Whether you want to just store your valuables, recreational gear or tools or set up a business storage space for retail or wholesale, we can do it. For more information, call 503-622-4275.